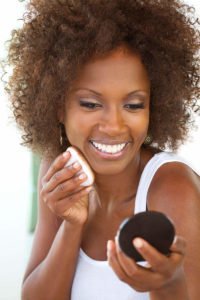 As we age, we may begin to struggle with finding a beauty routine that makes us feel just as beautiful as we did in our 20's or 30's but the 40's come with their own beauty blessings! Acne tends to fade as do pigment issues from our younger years. Your biggest worries are likely dryness, dullness and those pesky crows feet and wrinkles. We've compiled some of our top tips and tricks to looking your best even after 40.
"You are what you eat": Everyone has heard this age old saying but is it applicable to our skin? Women over 40 have found that sticking to natural fruits and vegetables, and avoiding processed foods makes a huge impact on your immune health as well as your skin. Jennifer Aniston recommends a spoonful of royal jelly every day. This can be a fun and sweet trick to help your skin stay soft and supple.
Dewey is the way to go: As we age our skin gets drier and loses its natural shine. A powder based makeup can draw attention to those fine lines and dry patches. Instead, focus on looking polished and elegant. A dewy foundation or tinted moisturizer will give you an elegant glow while drawing attention away from fine lines. If you want to remove excess shine, use a little powder and then blot with blotting sheets or a Kleenex.
Exfoliate, Exfoliate, Exfoliate: Exfoliate more often, but gently. "Dead skin cells are slower to slough off—and the pileup can contribute to dryness and dull tone and even accentuate existing spots and wrinkles," says New York City dermatologist Doris Day"* Once a week, using a physical exfoliant, rub away old dead skin cells revealing the soft newer skin to keep your skin happy and awake.
Hydration is Key: Hydration is the best thing we can do for our skin. By finding a hydrating serum to add to our daily routine as well as upping our water intake you can significantly improve the firmness and longevity of your skin. Update your eye cream, finding a good collagen grower and applying a little olive oil every day is a great way to boost your skincare routine in a simple way!
Accentuate Your Eyes: Hot and Flashy Creator Angie Schmitt, 54, says her secret beauty weapon is black eyeliner. "It's great for helping my eyes look more awake and youthful," she says. "I draw a thin line at the base of my top lashes with a soft pencil. Then I trace over that with a liquid formula for more definition."*
Exercise and Tone: Workouts like the burpee can help to tone the entire body keeping the skin firm and helping you feel young inside and out. For a video on how to do a burpee and more fitness tips visit www.fitnessmagazine.com. Make sure and check with your doctor before you engage in any rigorous activity.
Face masks are your friend: There are so many different masks on the market today but finding one that best suits your skin type can be difficult. Cate Blanchett swears by the SK-II Facial Treatment Mask which increases circulation and plumps the skin. Take some time to research what is needed for your particular skin type and see what others have used to help. Reviews are going to be your biggest help in finding the best product for you.
Take a break: Relaxation is just as important as working out. Anxiety and stress can affect your immune system which affects everything from your skin, to your hair and your internal health. Only have time for one? Take a quiet stroll through a neighborhood park. Focus less on fitness and more on mental rehabilitation. You are still moving and getting your heart pumping but your mind is free to think on more calming things and less on how many calories you're burning.
Above all, don't forget that no matter the number, your age doesn't define you. You are still the same beautiful woman who loves life and beauty. In life, we may have to adapt but we never have to change who we are.
Love,
Nature's Naturopathic
Source: www.womansday.com/style/beauty/g3249/beauty-tips-from-women-over-40/ www.allure.com/gallery/best-skin-care-routine-40s / www.womenshealthmag.com/beauty/g19956342/celebrity-beauty-secrets/